The Bentley Bentayga has already established itself as one of the most preeminent ultra-luxury SUVs for sale in Ohio. How could it possibly be improved upon? Bentley decided there was only answer to that question: lengthen the wheelbase to create the 2023 Bentley Bentayga EWB. This new subset of the Bentayga lineup brings unprecedented levels of rear legroom to second-row passengers, making this an SUV that is as thrilling to drive as it is to ride in. You can experience this firsthand when you visit our Bentley dealership near Upper Arlington, which currently has a demonstration model available for prospective customers to test-drive. Arrange your personalized Bentayga EWB review with our team today.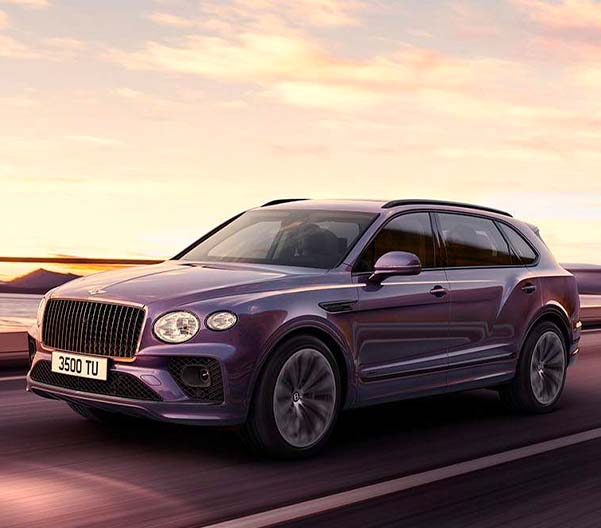 2023 Bentley Bentayga EWB Specs & Features
The highlight of the 2023 Bentley Bentayga EWB specs is the lengthened wheelbase, which has been stretched 7.1 inches relative to the standard model. That extra length results in impressive Bentayga EWB dimensions: this new Bentley SUV features a 125-inch wheelbase and an overall length of 208.9 inches. These updates not only result in more stretch-out and cargo room -- they also help the 2023 Bentley Bentayga EWB interior offer more space than any of its luxury competitors.
To ensure performance commensurate with its larger silhouette, Bentley has fitted the Bentayga EWB with the brand's signature 4.0-liter V8 engine. Delivering up to 542 horsepower and 568 pound-feet of torque, the Bentayga EWB engine delivers the effortlessly fast, refined and silent performance that is a hallmark of every new Bentley for sale near Upper Arlington. Its pair of twin-scroll turbochargers enable a Bentayga EWB 0-60 mph time of just 4.5 seconds and a top speed of 180 mph. Helping keep this SUV poised is the Bentley Dynamic Ride feature, which provides active suspension damping to maintain handling without any sacrifices in comfort. Standard Electronic All Wheel Steering, meanwhile, improves both maneuverability and stability.
Custom Order a Bentley Bentayga EWB near Me
Like any other new Bentley offered at our dealership, shoppers can custom order a Bentayga EWB in Columbus with a high degree of personalization. Bentley currently offers over 63 Bentayga EWB colors, with bespoke options available on request. Local Bentley owners can also order a new Bentayga EWB with one of 15 different hides and 11 veneers. The result is that you can easily configure and create an SUV that is truly unlike anything else on the road.
If you would like more information about the 2023 Bentley Bentayga EWB features and options, please contact Bentley Columbus. Our sales consultants can work directly with you to answer any questions you may have regarding the Bentley custom order process or new vehicle financing. We can also arrange a time for you to sample our demonstration model currently available. As you'll see on your Bentayga EWB test-drive, this is truly an incomparable SUV.